Post by Bob McKenzie - TSN on Nov 30, 2017 14:43:39 GMT -5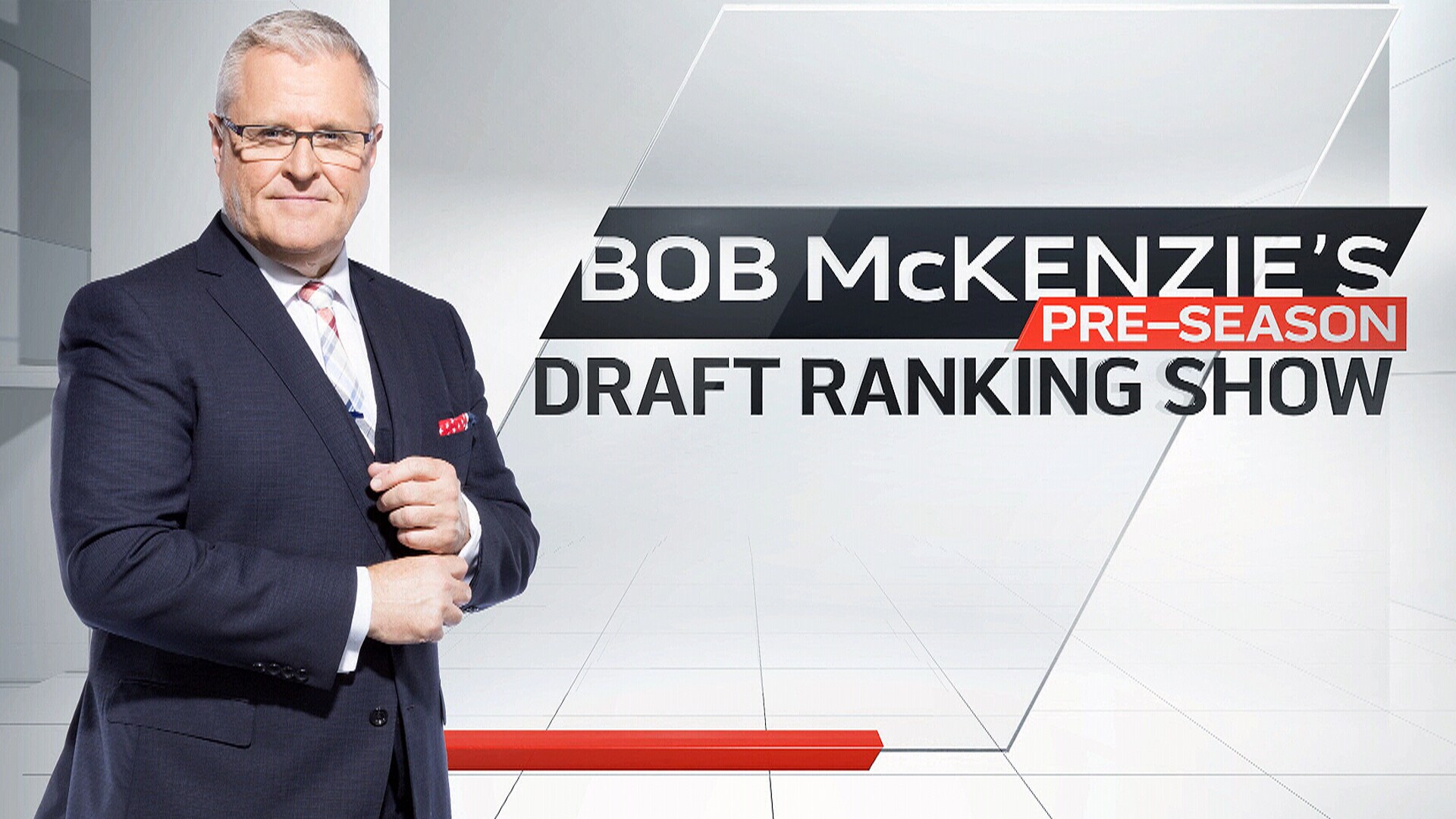 Hello all! Welcome to our very first pre-draft show rankings. After talking to the majority of scouts from around the league, this is our consensus list. Unfortunately, our producer were a little cheap to fix our Pre-Season graphic, but we'll make due. In this show, we will break down the top 10 prospects for the upcoming NHL Entry draft and potentially get into a few more down the road. Without further ado, here our top 30 prospects!

1. D Henrik Larsson 80 OFD – Brynas IF SHL - 5'7'' 168lbs L
Henrik Larsson is the best prospect out of Sweden since Ramus Dahlin. Think next Erik Karlsson. While Larsson's height might scare some, especially as a defenseman, he is actually is quite bulky for his size. He has a low-centre of gravity and has the frame to add muscle, strength shouldn't be an issue. His hockey IQ is through the charts, allowing him to be positioned exceptionally well in all areas. His offensive creativity and accurate wrist shot make him a threat with the puck in the offensive zone. What Larsson lacks in physical play he makes up for with his stick, mobility, and IQ.
2. C Fabian Zetterlund 79 PLY - Farjestad SHL - 5'11'' 196lbs R
Nephew of Henrik, Fabian is poised to be a stud. Although he's rank a tier below Larsson, look for him to have as much of an impact in the NHL. Fabian is quite similar to his uncle, just a tad bulkier, and not as smooth of a skater. Good two-way center, Fabian excels in all three zones. Very good at playing below the puck and helping the play develop up ice. He's a threat every time he's in the offensive zone, whether he has the puck or not. He's very good at losing defenders and finding open space.
3. RW Vladimir Kuznetsov 78 SNP – Acadie Bathurst Titan (QMJHL- RUSSIA) - 6'1'' 190lbs L
The younger cousin of Evegny, Vladimir took the CHL by storm this year. He single-handily brought Acadie-Bathurst to the QMJHL finals, losing in 7 to Moncton. Vladimir is the definition of offensive upside. His release is bar-none the best in this class, maybe better than Cain Tucker, who just put up 35 goals as a rookie for Arizona. Vladimir is all effort on the offensive side of his game and is great in transition. With this said, he is a one-dimensional player. He struggles in his own end and isn't great away from the puck. With that said, if you only have one dimension, elite offensive abilities isn't a bad dimension to have.
4. D Devante Stephens 76 DFD – Kelowna WHL - 6'2'' 190lbs L
The epitome of WHL defensive defenseman. Devante Stephens is a tough rugged defensive defenseman that has a fram that is still growing. His physicality and defensive abilities are bar-none the best in this class. He is a PK specialist and can play a role in your top 4 moving forward. He's a mean defenseman that will do what's needed to get the job done. While his offensive abilities are deemed just above average (relative to 1st round prospects), Devante is poised to become one of the leagues best shutdown defensemen.
5. RW Reid Duke 75 PWF – Brandon WHL - 6'0'' 191lbs R
The top Canadian forward prospect, Reid Duke is a tough winger that excels at taking the puck to the net. Captain of his WHL team, Duke is a character player. He lead his team to the Memorial Cup, losing in the finals to Soo Ste. Marie of the OHL. His offensive game is in front of the net, is a pure net-front presence puck retrieval styled forward. He is an elite glue player. Not as physical as some other PWFs like Matthew Tkachuk, Duke plays an honest 200 foot game and is likely more effective defensively than most. While Duke remains an elite prospect, some scouts are skeptical on his ceiling.

6. C Alex Lambacher 74 TWF – Adler Mannehim DEL - 6'3'' 198lbs R
The best prospect out of the DEL league not named Auston Matthews (remember he came from there, not the States?). Lambacher is a big framed two-way centre that (again) plays a strong 200 ft game. He's dominant down-low and in tight around the net. Great net front presence guy and is great on faceoffs. Alex will need to work on his mobility in order to play at the next level, but something most are certain won't be an issue. Lambacher offers a complete game, but some question his upside.
7. G Connor Ingram 74 HYB – Kamloops WHL - 6'1'' 202lbs L
Connor Ingram put up an impressive .920 SV% despite not playing on a playoff team. This has never been done in the history of the WHL, quite an impressive feat. Connor refused to leave Kamloops, as it was home to his grandmother, whom he loves. Some scouts have used this narrative to praise his character, while others have questioned his commitment to winning. There are a wide variety of opinions on Ingram, some scouts ranking him as low as 25 and some preferring Russian netminder Mikhail Denisov. With this said, there's a few scouts that have said they wouldn't be surprised if Ingram was drafted in the top 3. Time will tell.
8. D Filip Kral 74 TWD – HC Kometa BRNO EXTRALIGA - 5'11 167lbs L
Filip Kral is another prospect with a variety of reports on. Some have ranked him in the top 5, some out of the top 10. Some scouts prefer the offensive upside that Kral brings as oppose to Stephens, though there is no question that Stephens is further along. Kral may need a year or two in the American league to adjust to the North American game. There were times that he struggled with the speed of the men's game, affecting his gap control. With this said, there is clear upside here and potential down the line.
9. LW Juha Jaska 73 TWF – Helsingin IFK LIIGA - 5'10'' 172lbs L
The Finnish Flash. Easily the fastest player in this draft, maybe since Connor McDavid. Jaska's mobility is what separates him from any other prospect. He plays a quick North-South styled game and can bring the puck to the net, making him extremely dangerous off the rush. His quick hands allow him to beat defenders in-tight and he can get a shot off in traffic. Think of a bulkier version of Carl Hagelin. Jaska play without the puck has been improving over the course of the season and shouldn't be an issue during his prime.

10. D Marc-Olivier Duquette 72 TWD – Drummondville Voltigeurs QMJHL - 6'4'' 200lbs L
The 'Frenchie', Duquette was outstanding for Drummoundville during the playoffs, coming up short to the Kuznetsov led Acadie-Bathurst in the semi-finals. Duquette is a smooth skating two-way defenseman that can play quality minutes in all situations. Duquette has a high IQ and defends well with his stick. He positions himself well, making up for his lack of physicality. His gap control is outstanding, and he can quickly turn a defensive stop into a rush the other way.
Honourable Mentions
C Adam Brooks 72 PLY – Regina WHL - 5'10'' 175lbs L
Brooks is a smart playmaking centre. He has great vision in the offensive zone and is a real point producer. Some scouts question his play away from the puck and his ability to drive to the net. With that said, there is no one questioning his offensive upside. Top 10 potential.
LW Carl Grundstrom 72 PWF - Frolunda SHL - 6'0'' 194lbs L
Unique styled player, Grundstrom is poised to be an elite puck retrieval forward. His combination of size and mobility allows him to drive to the net with force. What he lacks in vision he makes up for with finish. His play in front of the net is impeccable. Some scouts question whether his game will translate to North America.
LW Tyler Robertson 72 GRN – Edmonton WHL - 6'2'' 192lbs L
Typical WHL styled forward, Brian Burke would be licking his chops. Robertson seems poised to be the next styled Ryan Callahan, a quality top 6 forward that can play on the PP and top PK minutes. Puck retrieval styled player with an offensive touch. Needs to work on discipline, as some scouts believe he's a hot head.